Discrimination & Harassment
Your Image Is Our Business
Now, more than ever, when current or former employees claim discrimination or harassment, employers need someone by their side to help them work towards an effective and efficient resolution. Mintz recognizes your concerns. Our attorneys have extensive experience defending employers in these types of matters. We also conduct independent investigations regarding discrimination and harassment and train management and staff on how to act professionally in the workplace.
Share
Awards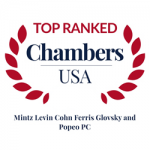 Chambers USA
Multiple attorneys ranked in Band 1 for Massachusetts Construction Litigation
U.S. News and Best Lawyers®
Ranked Nationally for Litigation – Intellectual Property and Litigation – Patent "Best Law Firms 2023"
LexBlog
Practice blog ranked the #1 Employment & Labor Blog, Am Law 200 Blog Benchmark Report 
LexBlog
Practice blog ranked #10 in the Top 30 Am Law 200 Blogs, Am Law 200 Blog Benchmark Report 
Our Approach
We believe that the best defense is a good offense. If employees understand what's expected of them in the workplace — through clear communication of your policies, clear reporting procedures that allow for the resolution of disputes, and the delivery of periodic training on professionalism — then employers can rest easier over the potential for a claim. We partner with you to help set these expectations.
If you're faced with a claim, we partner with you to establish priorities and leverage resources to handle your matters effectively. We understand the cost constraints when defending these claims — especially single-plaintiff matters. We focus on providing you with the best defense, using a cost structure that will help deliver the best value.
Employment Disputes
Wrongful termination, retaliation, and harassment claims
Defamation and whistleblower actions
Discrimination actions, including those on the basis of age, race, gender, marital status, disability, sexual orientation, religion, and national origin
Counseling
Regularly counsel our clients regarding workplace harassment and discrimination matters, including reviewing and revising employment policies and procedure, responding to internal employee complaints, and resolving pre-litigation disputes. 
Investigations
We respond to simple internal employee complaints as well as state and local government agency investigations, including those involving the US Department of Labor, Equal Employment Opportunity Commission, Occupational Safety and Health Administration, and National Labor Relations Board.
Arbitrations
Regularly represent clients in arbitrations before the American Arbitration Association (AAA), the Financial Industry Regulatory Authority (FINRA), mediation, and internal alternative dispute resolution programs. 
Meet Mintz
Our attorneys have extensive experience defending and arbitrating claims involving allegations of discrimination and harassment. We'll partner with you to establish priorities and leverage resources to handle your cases effectively.
Member / Chair, Employment, Labor & Benefits Practice
Member
Member
New York, San Diego
+1.858.314.1550