Anthony is an accomplished trial and appellate advocate, but beyond that he also serves as a general strategic advisor.  He has thirty years' experience guiding businesses and business owners as they navigate their most complex legal and practical challenges.  He brings to both roles a hands-on, real-world knowledge of how things actually work, both inside and outside the courtroom.  As a litigator, he has earned a reputation as a creative, tenacious, and steadfast advocate who is a true trial lawyer and unafraid to go to the mat for his clients.  At the same time, he will always search for the most cost-effective means to resolve a dispute, and the fact that adversaries know he is a talented trial lawyer helps bring about favorable resolutions.  As a strategic advisor, he brings that same creativity and persistence to helping clients find the right path through often tangled problems, with or without resort to litigation.  That can include such things as crafting cutting-edge contracts, finding overlooked insurance coverages, alternative dispute resolution, strategic asset protection, and/or workouts of distressed transactions.
Anthony's litigation practice focuses primarily on complex commercial disputes, intellectual property litigation, contract matters, distribution arrangements, shareholder and investor lawsuits, antitrust matters, and business dissolutions.  He has served as lead trial counsel in state and federal courts and in arbitrations; he also has significant appellate experience.  
Anthony has successfully represented clients in high-stakes litigations – including two cases involving products with sales in the billions of dollars and hundreds of millions of dollars, respectively – as well as in trademark cases, partnership and investor disputes, class actions, antitrust cases, false advertising cases, patent infringement cases, estate and trust disputes, fraud cases, and many additional complex litigation matters.
Prior to joining Mintz, Anthony served in the New York office of a large, full-service law firm. He also practiced for 10 years with another global corporate law firm headquartered in New York.
Education
Georgetown University (JD, magna cum laude, Order of the Coif)
Fordham University (BA, magna cum laude)
Experience
NK Retail Holdings, Inc., et al. v. Jason Sandlofer, et al., 651344/2012 (NY Supreme Court) – Represented NK Retail Holdings, the operator of a retail novelty store chain and Halloween "pop-up" stores in suing two former employees and a competing retailer who hired away the ex-employees. In connection with an application for a temporary restraining order, the judge ordered that the defendants' laptops be seized. Shortly after, the case settled on favorable terms.
Defended a surgical equipment manufacturer in several patent infringement cases involving a number of medical devices.
Represented the income beneficiaries of a $700 million trust in a dispute with trustees over diversification and corporate control issues. The matter was litigated through trial and appeal.
Represented registered representatives in various investigations by the National Association of Securities Dealers regarding supervisory responsibilities, qualifications, and the like.
Represented a $2 billion pharmaceutical/health and beauty aids distributor in a wide variety of matters including regulatory, Prescription Drug Marketing Act, trademark, contract, fraud, and tort issues.
Served as lead counsel on behalf of a Korean pharmaceutical company and its U.S. subsidiary in a case involving fraud, negligent misrepresentation, breach of contract, and consumer fraud claims.
Implemented a litigation strategy for an industry leading hair-care wholesaler that led to winning or settling all major existing litigations, thereby eliminating nearly all impediments to marketing.
Represented a Northeastern railroad as plaintiff under Sherman Act §§ 1 and 2.
Represented a plaintiff clothing manufacturer in a suit alleging trademark infringement by another clothing manufacturer.
Defended a wholesale distributor of pharmaceuticals in several trademark cases involving various products where it was alleged that the products were rendered non-genuine for failure to adhere to the manufacturer's quality control strictures, or for removal of batch and date codes.
Represented a global computer manufacturer in a series of litigations designed to protect patents and copyrights in proprietary peripheral bush hardware and software.
Represented a major name-brand pharmaceutical manufacturer in Sherman and Robinson-Patman Act class actions.
Served as lead counsel at an arbitration hearing in which a board member and majority stockholder were sued by minority stockholders of a company that executed a "down round" transaction. The claimants alleged breach of fiduciary duty, fraud, and breach of stockholders' agreement. The case resulted in an award for our client.
Represented Perfumania, Inc. in a nationwide class action pertaining to alleged violations of the TCPA, with the plaintiffs seeking between $10 million and $20 million of damages. The case presented novel issues of liability under the TCPA, as well as standing to pursue class under the Supreme Court decision in Spokeo and its progeny. We mounted a spirited defense and obtained a settlement at a very small fraction of the claimed damages.
Represented a defendant in a Lanham Act repackaging case that made new law. The case was won on summary judgment, and through appeal.
Represented a client in a Lanham Act case where the client was charged with violating an injunction entered as part of a settlement. The injunction was vacated both retroactively and prospectively, and the decision was upheld on appeal.
Represented a client in a Hatch-Waxman litigation that resulted in what is believed to be the largest award of attorneys' fees in an Abbreviated New Drug Application (ANDA) case to date.
Represented a large distributor of pharmaceuticals and health and beauty care products in dispute between two pharmaceutical wholesalers regarding the terms of sale and returnability of several million dollars' worth of prescription pharmaceuticals.
Settled a claim against our client, a large distributor of pharmaceuticals and health and beauty care products, alleging the sale of infringing energy drinks.
Represented a large distributor of pharmaceuticals and health and beauty care products in a case involving the interpretation of a side-letter entered into in connection with the making of a Delaware LLC Operating Agreement for a separate entity.
Defended an accounting firm in the first post–PSLRA §10(b)-5 action against accountants to go to verdict. The result was a unanimous jury verdict for the defense.
Represented major firms and individual brokers in §10(b)-5 actions and in NASD arbitrations, and succeeded in having all references to an arbitration expunged from the brokers' Central Registration Depository records.
Defended a Fortune 500 media company and individual directors in a securities class action and in derivative suits that alleged breaches of fiduciary duty.
Defended a global electronics manufacturer in a number of consolidated class action antitrust cases.
Defeated price gouging case brought by the NY AG's Office against national distributor and its CEO. AG claimed our clients had charged excessive prices for cleaning products during the COVID-19 pandemic. After an expedited proceeding and a summary hearing, our clients were fully vindicated and the case dismissed, in the only successful defense under this statute's over 40-year history.
Recognition & Awards
Managing Intellectual Property: Patent star - New York (2014, 2016 – 2022), Trademark star - New York (2018 – 2022)
BTI Consulting Group: Client Service All-Stars (2014)
World Trademark Review: WTR 1000 Leading Trademark Practitioners (2010 – 2016)
Martindale-Hubbell AV Preeminent Rating
Law 360: Prominent Litigator Series
Order of the Coif
Involvement
Member, International Association of Defense Counsel
Member, American Intellectual Property Law Association
Member, Federal Circuit Bar Counsel
Recent Insights
Viewpoints
News & Press
Mintz Member Anthony J. Viola was featured as a runner-up "Litigator of the Week" by The American Lawyer's Litigation Daily for his work to achieve an unprecedented victory for clients Quality King Distributors, Inc. and its Chief Executive Officer Glenn Nussdorf in an expedited proceeding for alleged price-gouging brought by the New York State Attorney General.
Viewpoints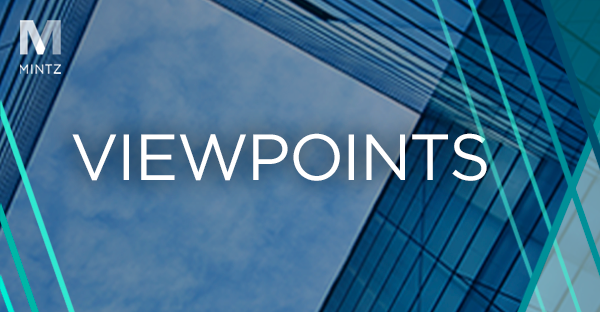 April 29, 2020
|

Alert

|

By Jason P.W. Halperin, Jeffrey Moerdler, Scott Rader, Anthony J. Viola
Read about how price gouging statutes and enforcement, by NY state and city, Mass., and the federal government, may affect businesses during the COVID-19 pandemic.
Read more