Larry has a deep understanding of what drives government enforcement actions, and how to defend against them, in the health care and life sciences industries. As a trial lawyer and then official in the Civil Fraud Section of the U.S. Department of Justice, he litigated and supervised hundreds of False Claims Act and qui tam cases nationally. In his litigation practice, Larry has successfully represented hospitals and health care systems, laboratories, pharmaceutical and device manufacturers, and health care executives against fraud and abuse allegations and investigations brought by federal and state agencies. He is consistently recognized among the nation's leading health care defense attorneys.
Larry's health care and life sciences litigation practice focuses on defending clients against allegations and investigations of fraud and abuse involving governmental programs. He is highly experienced in representing clients against actions brought by federal and state agencies including the US Department of Justice (DOJ), the Department of Health and Human Services Office of the Inspector General (HHS OIG), the United States Attorneys' Offices, and state OIGs and Medicaid Fraud Control Units (MFCUs).
Larry's practice is based on his 24-years of experience handling complex civil litigation, often in the context of parallel proceedings, and achieving global resolutions. In addition to enforcement defense, Larry counsels clients through internal investigations, corporate compliance, investor due diligence reviews, and health care bankruptcies involving governmental liabilities. His clients include hospitals and health systems, dialysis providers, clinical laboratories, medical equipment companies, pharmaceutical and device manufacturers, and health care executives.
Prior to private practice, Larry served as an Assistant Director with the Civil Fraud Section of the DOJ and focused solely on the False Claims Act and its qui tam provisions. At DOJ he supervised hundreds of qui tam cases filed in US district courts throughout the country, was part of the leadership team for the pharmaceutical enforcement initiative, and managed high-profile actions often involving multiple US Attorneys' Offices and federal agencies.
Prior to his position as Assistant Director, Larry served with the Civil Fraud Section as a trial attorney focused on health care fraud and defense procurement. He co-led the notable investigation and prosecution of national independent clinical laboratories known as "Operation LABSCAM." For his achievements, Larry was highly-recognized by the Attorney General with the Department's highest and second highest awards, as well as multiple awards from the HHS OIG and the MFCUs.
Following law school, Larry served as a law clerk for the Honorable Richard Cardamone of the U.S. Court of Appeals for the Second Circuit.
 
Education
Yale University (JD)
Colgate University (BA, magna cum laude)
Experience
Represent a major national "Part D" Plan Sponsor in declined qui tam litigations in the Southern District of New York and the District of Rhode Island regarding alleged industry-wide fraud in "Direct and Indirect Remuneration" reporting to CMS.   
Represent a national testing laboratory in a False Claims Act investigation and qui tam matter regarding relationships with hospital-clients, and part of teams representing numerous genetic testing clinical laboratories in qui tam investigations and settlements. 
Represented a $1B urban health care system in a DOJ criminal and civil investigation involving allegations of violations of the Anti-Kickback Statute and Stark Laws with respect to physician compensation, and successfully reached a comprehensive civil settlement. 
Represented a CEO of major Medicaid managed care company with respect to alleged fraud involving Medicaid "medical loss ratio" reporting. 
Represented leading solar distributed power company in False Claims Act investigation involving alleged fraud in connection with U.S. Treasury "1603" program of grants in lieu of tax credits.
Represented as settlement counsel Tuomey Hospital in its False Claims Act and Stark Law litigation involving physician compensation, and successfully resolved all allegations against it after two trials and appeals.
Represented a health care system with respect to its only known administrative proceeding by CMS alleging Stark Law violations, and successfully resolved allegations without any liability.
Represented national dialysis company with respect to a qui tam matter and high-profile internal investigation and whistleblower matters. 
Represented the United States as a DOJ official with respect to hundreds of qui tam actions nationally alleging fraud by hospitals and health systems, clinical laboratories, post-acute providers, dialysis companies, and others with respect to allegations under the False Claims Act, Anti-Kickback Statute, Stark Law, and related criminal and civil enforcement laws. 
 
Recognition & Awards
Best Lawyers in America: Health Care Law (2017-2022)
Included on the Washington DC Super Lawyers: Health Care list (2014 - 2020)
Recognized by the The Legal 500 United States for Healthcare: Service Providers (2015)
US Attorney General's Award for Exceptional Service (2000)
US Attorney General's Award for Distinguished Service (1997)
DOJ Special Commendation for Outstanding Service (2003)
DOJ Special Achievement Awards (1997, 2000)
DOJ Meritorious Award (1996)
HHS Inspector General's Exceptional Achievement Award (1997)
HHS Inspector General's Integrity Award (1995)
National Association of Medicaid Fraud Control Units Award (1997, 2003)
Phi Beta Kappa
Chambers USA: District of Columbia – Healthcare  (2019-2022)
Involvement
Member, American Bar Association
Member, American Health Lawyers Association
BNA Health Care Fraud Report, Editorial Board Member
Rx Compliance Report, Advisory Board Member
Member, Board of Trustees, Temple Sinai (DC) 2018 - 2021
Sinai Assisted Housing Foundation, Board Member
Member, Program Committee, AdvaMed 2013
Recent Insights
Viewpoints
News & Press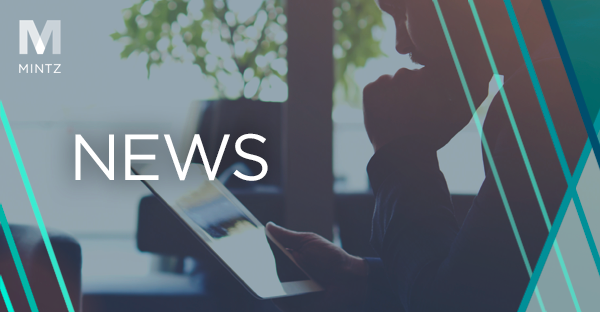 Mintz Member and Chair of the firm's Health Law and Health Care Enforcement Defense Practices Karen Lovitch, Member Laurence Freedman, Of Counsel Samantha Kingsbury, and Associates Grady Campion and Caitlin Hill co-authored the Global Overview and corresponding United States chapter of the seventh edition of Lexology's Healthcare Enforcement & Litigation 2022. Together these pieces outlined federal enforcement priorities in 2020, including matters involving opioids, COVID-19-related fraud, Medicare, and more, and look ahead to how health care enforcement is expected to evolve in the coming year. 
Events
Larry Freedman joins the panel "Enforcement Liability & Bankruptcy/Insolvency," at the American Bar Association's 32nd Annual National Institute on Health Care Fraud.
Larry Freedman will join the panel "Handling Whistleblower Claims 2022 - Rights of Private Sector Employees," on Wednesday, June 15.
Larry Freedman will be speaking on a webinar titled, "Releasing the 2021 False Claims Litigation Report," presented by Lex Machina. The panel will discuss the latest litigation trends under the False Claims Act and related state law claims.